Salma Yassine: MA Diplomatic Studies Student at University Mohamed V, Rabat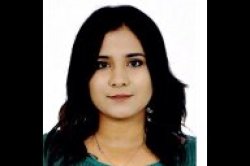 From March 25, 2019, Salma Yassine, a student of the Diplomatic Studies Master's course of the University Mohamed V, is a guest of the ZMS for three months working on her master thesis. Her qualitative study deals with the nexus between humans, development and migration using the example of Moroccan doctoral students in Germany. This target group includes a growing number of qualified Moroccans who choose Germany as a country of distination in order to complete their studies and/or to find emplyment.
Michael Loy: Visiting Scholar from University of Cambridge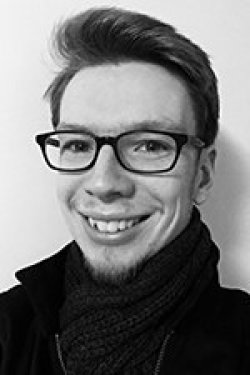 From October 1, 2017 onwards archaeologist Michael Loy from the University of Cambridge, Faculty of Classics, and Pembroke College was a visiting schoolar to the Centre for Mediterranean Studies. Michale Loy is holder of a scholarship from the German Academic Exchange Service (DAAD) and was working in Bochum on his project "Small finds and Big Data. Regional interactions in Archaic Greece" until end of 2017.
"Scholars in Residence" as part of the German-Egyptian and German-Tunisian Transformation Partnership (2012/2013)
With the project Scholars in Residence, taking the processes of transformation as point of departure, the Goethe-Institut seeks to promote intercultural dialogue in the area of academic research and to strengthen scientific relations between Germany and the Arabic world on a long-term basis.

The project is being carried out in cooperation with the Institute for Advanced Studies in the Humanities / Essen and the Ruhr University Bochum's Centre for Mediterranean Studie s.

In view of the Arab Spring in the North African region, the cultural sciences are also posing new questions. At this time, the analysis of themes such as digital media, culture and public space, as well as culture and conflict are playing a central part in societal and academic discourse. In the future, too, these themes will be relevant in the humanities, cultural and social sciences, above all with a view to processes of individual and collective identity construction.

During the exchange project, eight next-generation scholars from Egypt, Germany, Morocco and Tunisia will among other things take interdisciplinary approaches to these thematic complexes.

Citizen participation in digital space
The issue of digital space as a new public sphere is arising before the backdrop of political and societal developments in North Africa and the Near East, and in Europe as well. What concrete significance do digital media possess in the context of the political movements in North African Arabic countries – whether for the political organisation of resistance movements or for the development of a new structure of civic communication and public politics?

Transformation of public space
Public space is a constitutive element of societies. It is both a forum encounters as well as a platform for the formation of public opinion.

What function did Cairo's Tahrir Square fulfil during the Arab Spring for the constitution of a critical public? To what extent are public spaces becoming spaces of collective identity? And what transformations of public space took place following the Arab Spring?

The next-generation scholars will work together in tandem pairs, consisting of a German researcher and a researcher from North Africa.
Among the exchange-programme participants are:

Dr. Ghada Alakhdar (Cairo) and Dr. Martin Zillinger (Siegen)
Hani Morsi (Cairo) and Anna-Lisa Müller (Hamburg)
Dr. Mohamed Lachhab (Agadir) and Dr. Sarhan Dhouib (Kassel)
Dr. Mongi Serbaji (Djerba) and Monika Zbidi (Erlangen)
Among the exchange-programme participants were
Ghada Alakhdar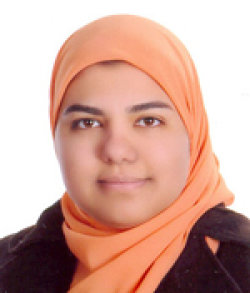 Ghada Alakhdar (born 1979) is a cultural and (online) media researcher. She completed her studies in the Department of English Language and Literature of Cairo University (Giza). In 2012 she obtained her doctorate in "Cyber Culture," and works as an instructor and research assistant at the MSA University in Cairo. In Germany in early 2012, she took part in the "Arab World Conference" and was interviewed on the internet's potential for political interventions.

Ghada Alakhdar will conduct research on the focal topic "Culture, Science and Digital Media" in the framework of "Scholars in Residence" at the Institute for Advanced Studies in the Humanities (Essen). Her focus is on the preoccupation with online media and its socio-cultural influence on diversity in Egyptian society. Together with her tandem partner Martin Zillinger, she specifically intends to compare online and offline research methods and discuss them in an interdisciplinary and international context.
Sarhan Dhouib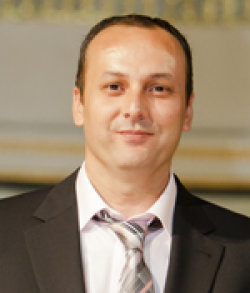 Sarhan Dhouib (born 1974) is a research assistant at the University of Kassel's Institute of Philosophy, and is working there on the research project "Ethics of Globalisation," concentrating on "Human Rights Discourses in Islamic Philosophy." After completing a course of study in philosophy at Sfax University (Tunisia), and history of philosophy at the Université de Paris, he obtained his doctorate at the Universities of Bremen and Tunis on Schelling's philosophy of identity. Among his research foci are Arabic-Islamic philosophy and intercultural philosophy. In 2011, he was distinguished with the Goethe-Institut's Intercultural Award for his contribution on "The Universality of Human Rights." In the same year he coordinated the DAAD-sponsored (German Academic Exchange Service) summer school in Tunis on "Culture, Identity, Human Rights: On the Path to a Trans-Cultural Perspective" for next-generation Arabic and German researchers. He also coordinated the conference "Democracy, Pluralism and Human Rights: Towards a Trans-Cultural Perspective," which was held in October 2012.

During the "Scholars in Residence" project, Sarhan Dhouib intends to deepen his re-search on the trans-culturality of human rights in contemporary Arabic-Islamic philoso-phy and study processes of implementation and institutionalisation of human rights within the Arabic-Islamic cultural sphere.
Mohamed Lachhab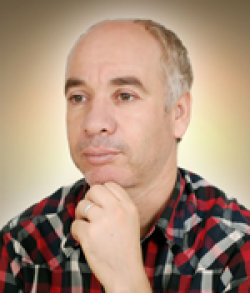 Mohamed Lachhab (born 1972) is a research assistant at the Université Ibnou Zohr in Agadir, Morocco. In 2008, following his studies in philosophy he obtained his doctorate on "The Paradigm of Communication in Habermas' Critical Theory". His research foci are social and political philosophy, Critical Theory, moral philosophy and 20th-century German and American philosophy.

In the context of "Scholars in Residence," Mohamed Lachhab will address the constitution of a critical public and its role in the democratisation of society, taking Habermas' model of the public sphere as his point of departure. Here, he is interested in, among other things, whether the functions of a critical public in the democratisation of a modern soci-ety as determined by Habermas can also be identified for the process of democratisation in the Arabic sphere.
Anna-Lisa Müller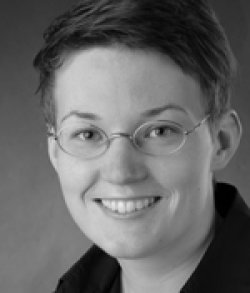 Anna-Lisa Müller (born1981), studied sociology, German literature and philosophy at the Universities of Konstanz and Växjö, Sweden. After graduating in Konstanz she dealt with the topic of "Creative Cities" as a research assistant in the Centre of Excellence "Cultural Foundations of Integration." Her main research interest in urban sociology was also the focal point of her dissertation at the University of Bielefeld, in which she analysed urban processes of transformation in Dublin and Göteborg. Starting in 2012, she is a research assistant in the trans-disciplinary research group "Urbane Metamorphosen" at the HafenCity University of Hamburg.

Anna-Lisa Müller is working on her focal topic "(Urban) Culture and Public Space" in the context of "Scholars in Residence", and intends to investigate the processes of social movements and the constitution of public spaces, with Cairo's Tahrir Square as example.
Hani Morsi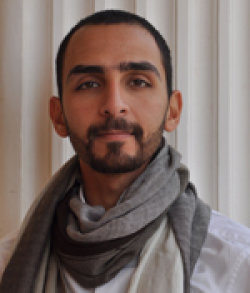 Hani Morsi (born 1982) graduated with a bachelor's degree in accounting and a master's in economics and international development at the American University in Cairo. He began work on his doctorate in 2011 at the Institute of Development Studies of the University of Sussex, (United Kingdom). Here, his research concentrates on citizen participation, socio-cultural change and political engagement. In his online publications, he deals with digital activism, social media and their influence on social change in post-revolutionary Egypt.

During the "Scholars in Residence" project, he intends to address the question of the role of modern information and communications technologies during the Arab Spring.
Mongi Serbaji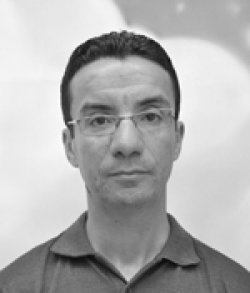 Mongi Serbaji (born1973) is currently a senior teacher at a secondary school in Djerba, Tunisia, and is conducting research in the area of justice and human rights, which he analyses from a global perspective. After his master's degree in philosophy and advanced study on Habermas' "Facticity and Validity" ("Faktizität und Geltung"), he obtained his doctorate in 2010 at Tunis University of the Humanities and Social Sciences, on "The Procedural Reconstruction of Right According to Habermas".

In the context of "Scholars in Residence," taking the Arab Spring and the processes of democratisation in Tunis as his point of departure, Mongi Serbaji intends to investigate the extent to which the new media infrastructure has generated a new public sphere in the Arabic world. Here, his interest is focused on whether and under what conditions the trans-national aspect of the public sphere – structured as it is by the new / social media - serves the processes of democratisation on national levels, or even works against them.
Monika Zbidi
Monika Zbidi (born in 1986) is a research assistant in the Department of Oriental Philology and Islamic Studies at Friedrich-Alexander-University / Erlangen-Nuremberg. Her dissertation is on "Ecological Islam - Modern Currents in Islam." In it, she investigates the contemporary current of Islamic environmental theology on the basis of both current ecological interpretations of the religious sources of Islam and the analysis of environmental activities. A central issue in her research plans is the question of the extent to which the implementation of an Islamic environmental ethics may be of relevance for development work in Islamic countries. Monika Zbidi studied Islamic Studies, political science and Semitic philology and spent a trimester at Al-Manar University in Tunis.

Monika Zbidi intends to investigate the role and relevance of the theme "Ecology and Islam," with particular focus on the processes of transformation in Tunisia during the "Scholars in Residence" project.
Martin Zillinger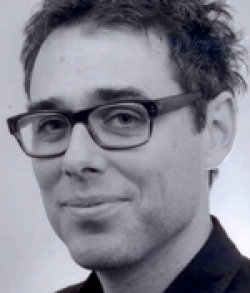 Martin Zillinger (born 1973) is a social and cultural anthropologist, and is currently working on the DFG (German Research Foundation) project "Trance Media and New Media" at the University of Siegen. His research concentration is on themes of migration and media use in transnational religious networks between Europe and North Africa. As a grant holder of the graduate programme "The Figure of the Third" of the University of Konstanz and of the DAAD (German Academic Exchange Service), he has spent several field research stays in Morocco and obtained his doctorate in magic, trance and folklore in Moroccan Sufism.

In the context of his research focus on "Migration and Integration," he will deal with religious identities in media networks.